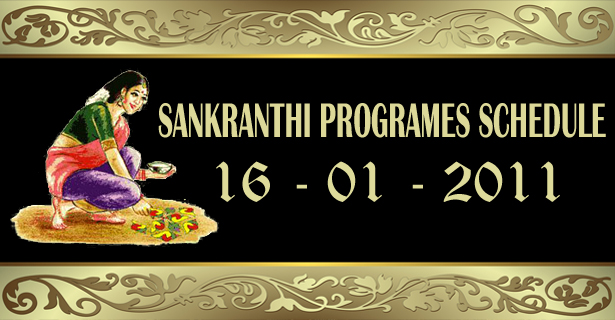 1.) 9.00 AM SUPRABHATHA SEVA AT TEMPLE 28 ST MARY 'S STREET, PRESTON  PR1 5LN and Rongoli by Joti Satti.
2.) 9.45 AM SANKRANTHI POOJA AT TEMPLE
3.) 11.00 AM GO TO LONDON ROAD LABOUR CLUB
4.) 11.30 AM WELCOME ALL GUESTS TO THE HALL ,AND SPECIAL GUESTS ON TO STAGE .
5.) SPEECH ABOUT SANKRANTHI BY PANDIT SRI VEMURI VENKATESWARA SARMA IN TELUGU FOLLOWED BY ENGLISH SPEECH BY KRISHNAVENI PADALA.
6.) MAYOR OF PRESTON ALBERT RICHARDSON SPEECH
7.) MP  MARK HENDRICK SPEECH
8.) INESPECTOR PROCTOR'S SPEECH
9.) LUNCH TIME AT 12.00PM
10.) CULTURAL PROGRAMES BIGINS AT 12.25PM
11.) MUSICAL SONGS BY DR. ROHINI AND DR. SRINIVAS AND REX JOES
12.) 1.00 PM GARABA.
13.) 1.12 PM SPEECH BY EXECUTIVE COMMITTEE MEMBER.
14.) 1.20 PM  PIYANO PLAY BY MISS.SASHI TADI
15.) 1.30 PM  SONGS BY DR.ROHINI
16.) GROUP DANC E BY MISS KRISHNAVENI PADALA, MISS VARALAKSHMI SATTI, AND MISS LAKSHMI MEDAPATI.
17.) SONGS BY DR.ROHINI GROUP
18.) COMEDY  BY BHIMA
19.) BOLLYWOOD GROUP DANCE BY NANDINI GROUP
20.) SONGS BY DR. ROHINI GROUP
21.) PRESENTATIONS  TIME
22.) 4.30 PM RAFFLE TICKETS  DRAW TIME
23.) 4.55 PM JANAGANAMANA
24.) 5.00 PM VOTE OF THANKS.