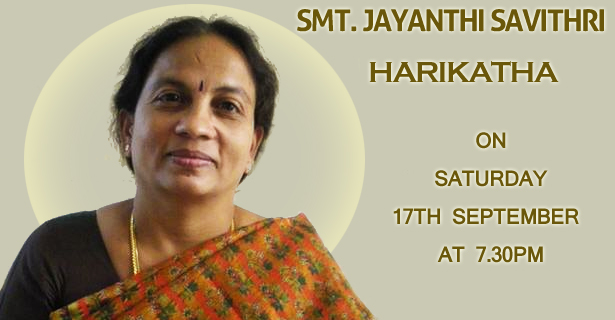 smt Jayanthi Savitri Garu, will be performing Sri Sreenivasa Kalyanam katha (Harikatha) in our temple on saturday 17th September at 7.30pm.
About smt Jayanthi Savitri Garu:
Smt. Jayanthi Savithri is an eminent Bhagavatharini (Harikatha artist) from Annamacharya Project – TTD, Tirupathi. Smt. Jayanthi has been propagating the "Pada Kavithas" of Sri Annamacharya in the form of Harikatha for several years now.
Smt. Jayanthi has been in the Harikatha field since 1976, started learning the art of Haritha when she was 12years old. Smt. Jayanthi was trained by Sri Vadlamani Narasimha Dasu (disciple of Harikatha Pitamaha Sri Adibhatla Narayana Dasu) and Sri Rajasekharuni Lakshmipathi Rao. She holds a diploma in Harikatha and Carnatic vocal (1976-1982) from Sri Sarvaraya Harikatha Gurukula, Kapileswarapuram, East Godavari Dt, A.P., India.
Smt. Jayanthi gave over 3,000 enlightning performances all over the world. Smt. Jayanthi is currently touring USA performing in several cities.
Harikatha means the story of Lord Hari. It is a composite art form comprising of story telling, poetry, music, drama, dance, and philosophy. It is a great opportunity to rekindle your memories or introduce yourself (and your kids) to this great art form.